Partyhat mini-game 
Partyhats are one of the most common items in the game, however it is also one of the most liked items. Partyhats are the most valuable items in runescape and due to this reason it is is wanted by all beginers at the start of every server. Godzhell had a fun mini-game called "The partyhat mini-game" however it is not available and it does not work and it has been like this for years. However i know another way to finish the game, it is shorter and easier. In the Partyhat mini-game you can only get the common unrare partyhats ...... white, blue, red, green, purple, yellow and godzhell's custom made black partyjat (head slot). ALL YOU NEED IS A P RING OR AGS. 
Step 1 - Go to skillz, go down, open the gate, follow the arrows on the mini map and the picture.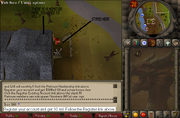 Step 2 - Stand on this spot, there is a hole in the wall, if you look you can see a man, attack him and kill him on that spot through the wall, use ags or pring to kill him fast.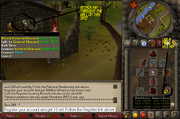 Step 3 - Kill him on that spot through the wall.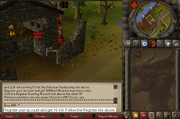 Step 4 - After you kill him just head to lumbridgle castle second floor. If you dont know were it is follow the arrows in my picture.
Step 5 - Open door, go to second floor.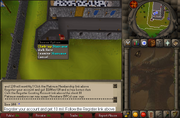 Step 6 - Go second floor.
Step 7 - Go along to coridore in second floot and there is a chest. Sometimes the chest takes a few seconds to apear so dont get scared.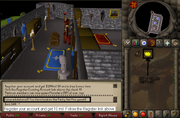 Last step - Open the chest and you should get a random partyhat. A notification saying you have beaten the mini-game will come at the bottom text bar. Now tele back to skillz.
This will work everytime, you can repeat it as many times you want. But when you go back to skillz you will be air because you was on second floor, to get down just enter ::ground and enjoy. 
By - ibos 100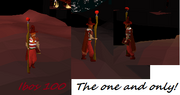 Ad blocker interference detected!
Wikia is a free-to-use site that makes money from advertising. We have a modified experience for viewers using ad blockers

Wikia is not accessible if you've made further modifications. Remove the custom ad blocker rule(s) and the page will load as expected.