The owners kiteshield is a recolored Black kiteshield. It is a part of the Owners armor set, and is equipped in the weapon slot. It does not give any bonuses. The black (r) kite is completely identical.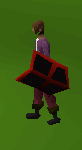 Owners Kiteshield



6

Equip?

Yes, weapon slot

Members?

No

Dropped by

None

Requirements

None

Value

Cannot be sold.
Ad blocker interference detected!
Wikia is a free-to-use site that makes money from advertising. We have a modified experience for viewers using ad blockers

Wikia is not accessible if you've made further modifications. Remove the custom ad blocker rule(s) and the page will load as expected.