Mining
Mining is a skill that can be trained at WC. To find a pickaxe, talk to dark mage found near WC and buy one. There is no rune pickaxe however. To start your mining you can find copper,iron, gold and rune ore in a little shed nearby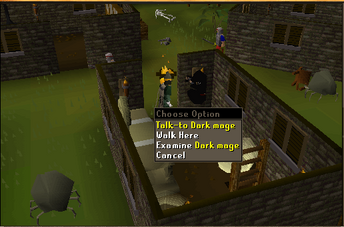 Training
Mine Copper until 30 Mining. Now mine Coal until 85 mining. Now mine Rune until 99 Mining.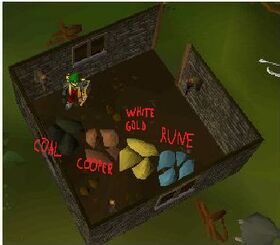 While gold ore requires level 99 mining to mine, it actually gives less exp to mine than rune, and smelting it also gives less exp than rune. Therefore it is not recommended to mine gold at level 99.
If you want to go to the addy mines go here! ::tele 02279 03157
Another mining station is found at: ::tele 03300 03300
Mining has 2 rare items involved in it, the half trimmed cape which is partially extinct, and the Mining hood which is extinct.
Ad blocker interference detected!
Wikia is a free-to-use site that makes money from advertising. We have a modified experience for viewers using ad blockers

Wikia is not accessible if you've made further modifications. Remove the custom ad blocker rule(s) and the page will load as expected.