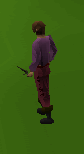 The Barrows defender is a recolored defender that looks very similar to an Iron defender. It is an extinct rare and is equipped in the weapon slot. It gives no bonuses.
Barrows Defender



10

Equip?

Yes, weapon slot

Members?

No

Dropped by

None

Requirements

None

Value

Cannot be sold
Ad blocker interference detected!
Wikia is a free-to-use site that makes money from advertising. We have a modified experience for viewers using ad blockers

Wikia is not accessible if you've made further modifications. Remove the custom ad blocker rule(s) and the page will load as expected.